The main results of the Malakit project were published in the Lancet Regional Health – Americas.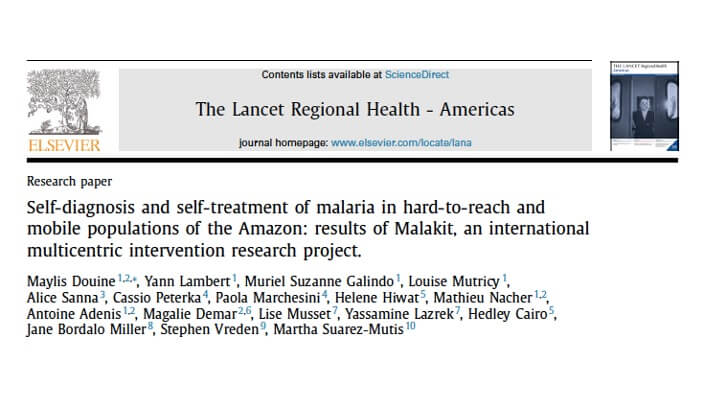 ---
To access the full article please click here.
Abstract
Background
Illegal gold miners are currently key hosts for malaria in French Guiana (FG), with a risk of emergence of resistance linked to improper use of artemisinin-based combination therapy (ACT). The remoteness of the mines and regulatory issues hinder their access to health care.
Methods
A quasi-experimental researched project (Malakit) implemented in FG borders with Brazil and Suriname aimed at determining the effectiveness of distributed kits for self-diagnosis and self-treatment to illegal gold miners, after training, at strategic border staging areas. Evaluation relied on questionnaires at inclusion and follow-up visits, and pre/post intervention surveys. The primary outcome was the proportion of persons reporting a use of certified ACT after a positive malaria diagnosis. The secondary outcomes assessed antimalarial adherence, kit use and impact on malaria epidemiology.
Findings
The proportion of patients reporting a use of certified ACT after a positive diagnosis increased after the intervention (OR 1.8, 95%CI [1.1-3.0]). From April 2018 to March 2020, 3,733 persons participated in the intervention. The kit was used correctly by 71.7% [65.8-77.7] of the 223 persons reporting having used a malakit during the follow-up visits. No serious adverse events related to the misuse of malakit have been reported. The intervention appears to have accelerated the decline in malaria incidence in the region by 42.9%.
Interpretation
This innovative international project showed that people with low education can correctly self-manage their malaria symptoms. This strategy could be integrated in the malaria control programs of the countries involved and considered in other regions with residual malaria in remote areas.
Funding
This project was funded by the European Union, the Global Fund, Brazil MoH, Cayenne Hospital and FG Health Regional Agency.